Glass Door Balustrade Cutting Safety Glass
Pengenalan ringkas Kaca Tempered
Sebagai salah satu kilang pemprosesan kaca yang paling profesional di China dari tahun 1985, kami menghasilkan pelbagai jenis kaca toughened, kaca berlamina, kaca terlindung, silkscreen kaca bercetak dan lain-lain. Kaca terbaja dihasilkan oleh pemanasan kaca terapung annealed dalam relau hingga lebih dari 620 ° C , dan kemudian dengan cepat menyejukkannya dengan jet udara sejuk, yang mengunci permukaan luar kaca dalam keadaan mampatan yang tinggi, dan teras atau tengah kaca dalam mengimbangi ketegangan, menghasilkan kaca 3-5 kali lebih kuat daripada biasa annealed kaca, tidak mudah untuk memecahkan. Kita boleh menghasilkan kaca marah kerana anda memerlukan saiz, bentuk, untuk memotong kaca untuk memenuhi keperluan anda untuk tingkap kaca, pintu kaca, balustrade kaca.
Maklumat mengenai Temper Glass
| | |
| --- | --- |
| Thickness | 3-19 mm |
| Max Size | 3300*13500 mm, any customized size can meet your required |
| Min Size | 300*300 mm, any customized size can meet your reuqired |
| Available Type | Float Glass, Heat Reflective Glass, Single Silver Low-E Glass, Double Silver Low-E Glass, Triple Silver Low-E Glass Etc. |
| Color | Clear, Ultra Clear, Green, Blue, Grey, Bronze, etc. |
| Process | Beveling, Drilling, Cutting, Bending, Silkscreen, Painted, Acid Etched, Etc. |
| Edge Processing | Grinding Edge and Polished Edge |
| Corner | Safety Corner and Round Corner |
| Water Jet Cutting | Cutouts, Hinge, Micky Ears |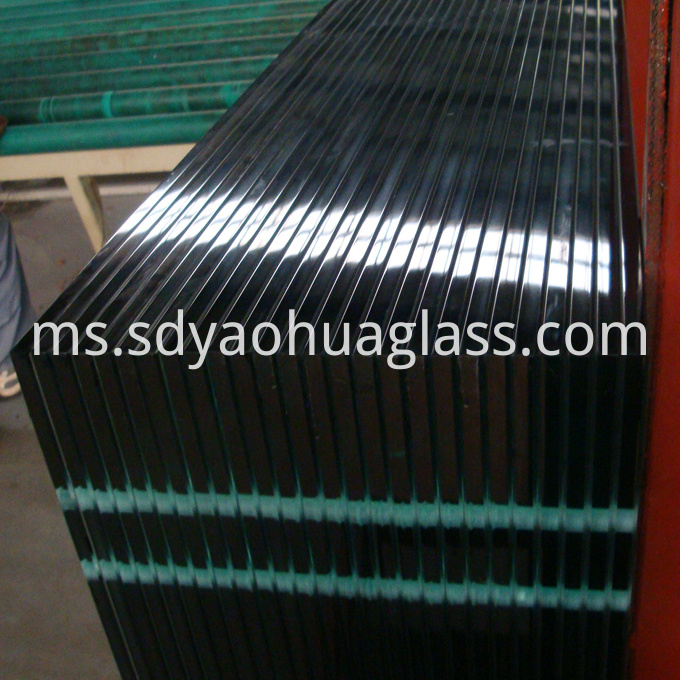 Ciri Kaca Merah
Keselamatan: Kaca terbaja selepas melanggar pecahan, tidak menyakitkan badan.
Kekuatan: kaca terbaja mempunyai kekuatan 4-5 kali daripada kaca biasa.
Kestabilan panas: kestabilan panas yang baik, ia dapat bertahan 3 kali suhu daripada kaca biasa, juga dapat bertahan berubah di atas 200 ° C.
Pembungkusan & Penghantaran
Masa pengeluaran: dalam masa 10-15 hari selepas pesanan disahkan;
Kotak kayu lapis eksport yang kuat, dengan kertas atau gabus lembut antara dua helai;
Maklumat Syarikat
Shandong Yaohua Glass Co, Ltd telah ditubuhkan pada tahun 1985, setelah lebih dari 30 tahun berkembang, ia telah menjadi salah satu pengeluar pemproses kaca terbanyak 30 bangunan. Pada masa ini, terdapat kira-kira 300 pekerja, 2 kilang standard moden yang besar, 3 pangkalan pengeluaran, lebih daripada 40,000 meter persegi kawasan pengeluaran. Syarikat kami mempunyai Sijil Sistem Pengurusan Kualiti dan Sijil CCC. Pengeluaran bergantung pada kaca LOW-E, kaca terbaja, kaca penebat, kaca berlamina, kaca skrin sutera, kaca bengkok panas, kaca peluru, 15 mm, 19 mm ke atas kaca saiz dan lain-lain jenis kaca pemprosesan yang mendalam.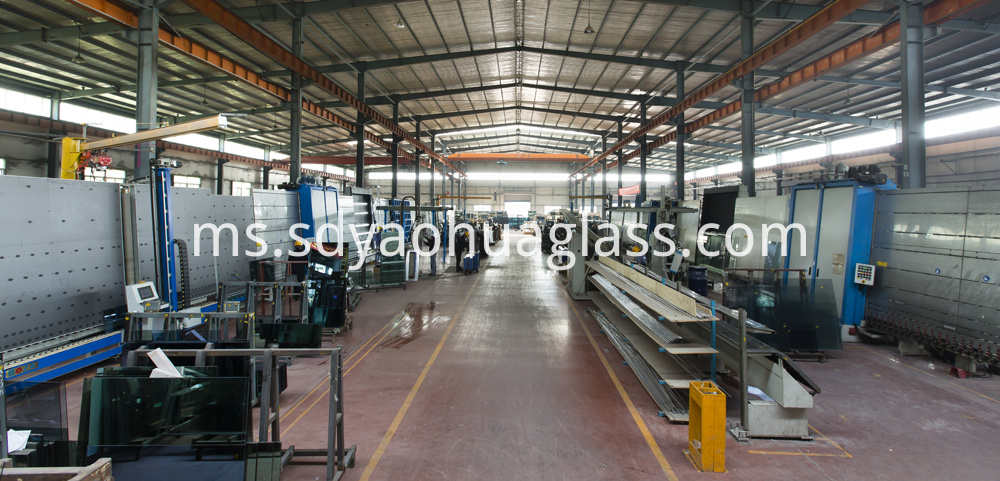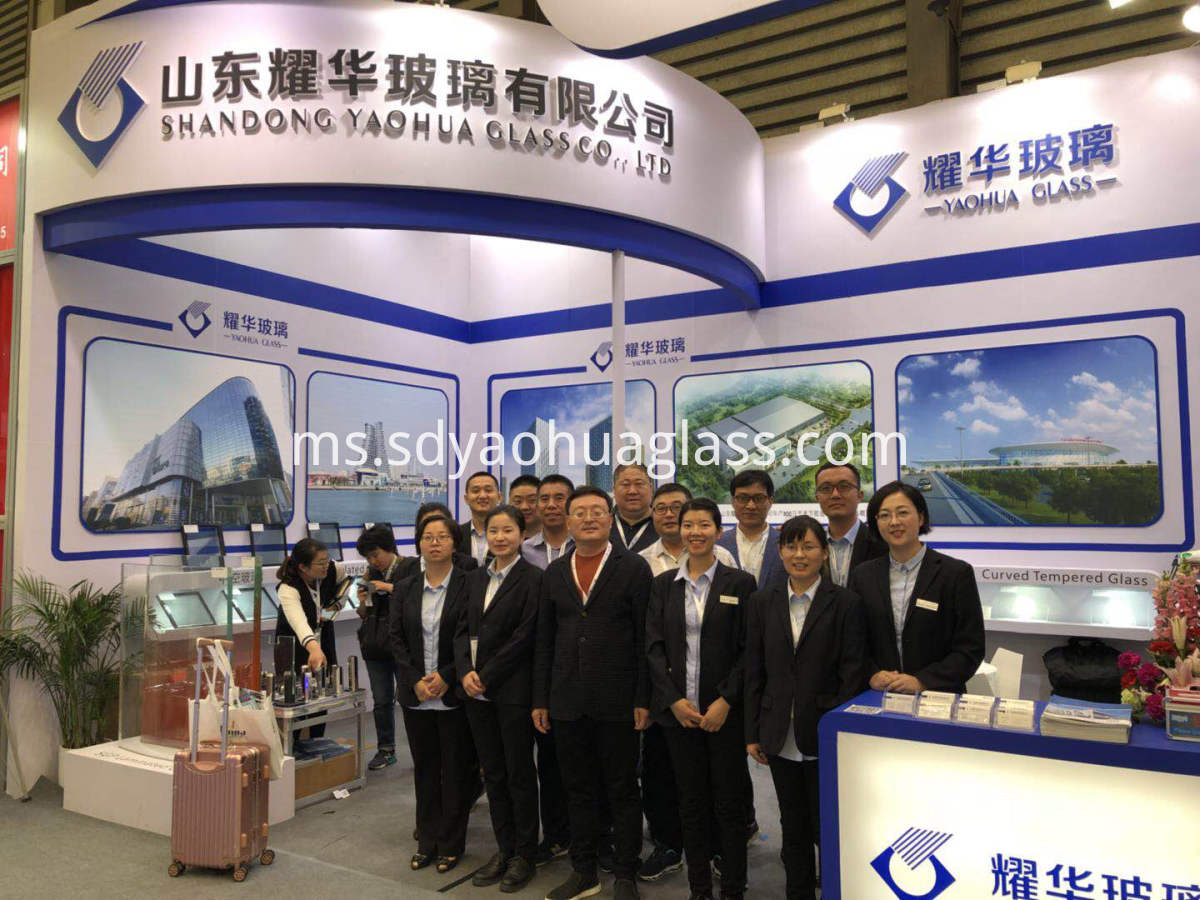 FAQ

1. How can I get the best price?
In order to offer our best price for you, please send all the details as below for us:
a. size and thickness of required glass; b. the approximate quantity; c. if special requirement like drill holes, cut notches, cutouts, acid etched, silkscreen; d. when you need those glass?

2. Where are you located?
Our factory locate in Jinan City, Shandong Province, China. Warmly welcome to visit us any time.

3- What's the fastest production time you can do?
Generally, insulated glass is 7-15 days, tempered glass is 10 days, laminated glass is 7-10 days.

4- How can you make sure the glass won't broken during transportation?
For all the glass from Shandong Yaohua Glass, we will pack them into strong export plywood crates and load the crates into container with metal belt as stable as possible. If unfortunately by accident, the glass broken, we will have insurance to cover the risk, because for all the glass from our company, we will purchase the insurance to cover all the risk for customers freely.

5- Can you accept small quantity?
Yes, but the price will be a little higher, because it needs to share more cost like depreciation of machinery and local charges.

6- Can you send me some samples to check your quality?
Sure, we could send the free samples (except special deep processing glass) for you any time. But for fair business, you pay for courier charge. If you have courier account like DHL, TNT, Fedex, send the detail account information to us, and we send out the samples ASAP. If you don't have courier account, transfer the courier charge for us, we will pay for delivery cost, and we will refund the courier charge for you once we start business.

7- Can you mix different glass in one container?
Yes, we could mix different processing glass like tempered glass, laminated glass and insulated glass in one container. But not with normal float glass.

8- How can I reach you faster?
Call us any time by phone number 0086
15615779827
. We are here for you 24 hours/day, 7 days/week.
Kategori produk : Kaca marah > Balustrade Kaca